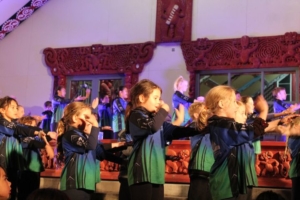 Pukehou School participates with pride and passion at the Ngati Whai festival bi annually. This year we were really fortunate to have the guidance and support of Aria and Dr. James Graham at the marae and also right throughout all our practices and on the day of the festival.
We spent an amazing day at the Pukehou Marae to practice our kapa haka for Ngati Whai. We started the day by watching a hangi being put down by some of our parents and then watched it being lifted, then served for us as lunch.
As part of the day we had support from students from Te Aute College to demonstrate and help the girls with poi. We learnt new waiata and a new haka this year. The children's performance on the day was moving and performed with great passion leaving some parents and staff teary eyed.