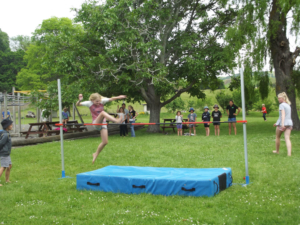 On Thursday 17th November we held our annual athletics day. This began with the children getting into House groups and walking over to Te Aute College for the tracks events. This journey involved crossing a creek, climbing a fence and avoiding cowpats and thistles! Once at the college we proceeded to hold our track events. We were assisted with some boys from Te Aute College.
Every student ran well and tried their best. This part of the day was completed with the eagerly anticipated relay between parents, senior students and Te Aute College students. This year a senior student team took it out but it was a close race.
Once back at school several families enjoyed a brought lunch made by the Paper Mulberry Café. Our afternoon was disturbed with thunder storms and some light rain but this only affected the high jumpers. All in all it was a great day.